Product Camp London 2015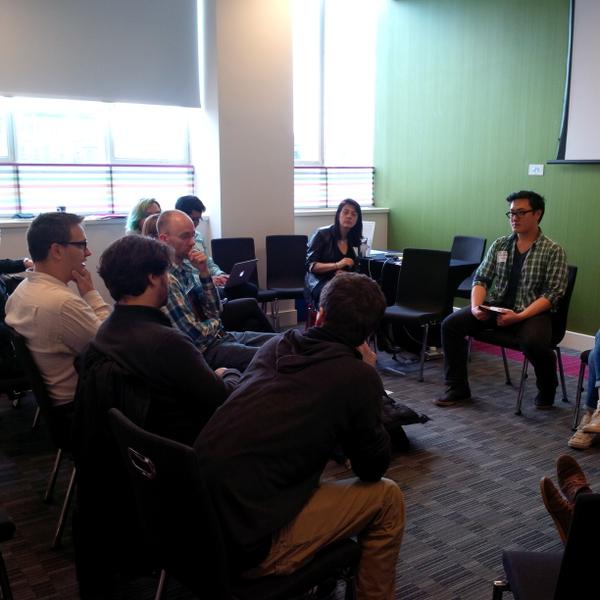 Last Saturday I attended Product Camp London — an 'un-conference' for product managers. It was a fantastic day in a company of smart and enthusiastic people, who happen to be doing the same things I do.
Being an ' un-conference' the event had no pre-defined program. Any attendee could become a speaker and add a session to the schedule, which kept changing throughout the day.
My personal highlights:
There are no magical "real product managers", who have all the answers. Most of the people have questions, are unsure, and are making things up as they go. And it is ok.
One of the main things people like about product management is that they get to do different things all the time and don't get bored. My feeling exactly.
London is full of non-native English speakers from all over the world.
Now to the sessions.
The first session I attended was "Become a great product manager" by Roman Pichler. It started off with an audience brainstorming qualities and skills which make up a great product manager. Roman then shared his product management framework and a self assessment sheet, which aims to help product managers think about their own skills, strengths and weaknesses.
After that I went into "Product Roadmap without Business Strategy" session. This one was more of a discussion, during which a few people shared their experiences of working on a product roadmap in a situation when senior management has no agreement on the overall business goals. Audience shared their tips and suggestions on how to survive that challenge.
The third session was the most entertaining one of the whole day — "Failure Swap Shop" by Adrian Howard. Adrian used the format originally created by Luke Williams.
It is pretty simple :
someone in the audience states that they failed
everybody cheers (this part is important)
then the person explains what the failure was about and lessons learned.
People had a lot of hilarious stories to share, and a lot of lessons learned. Quite a few times I caught myself thinking "oh yeah, done that", and "no way, someone else did this too".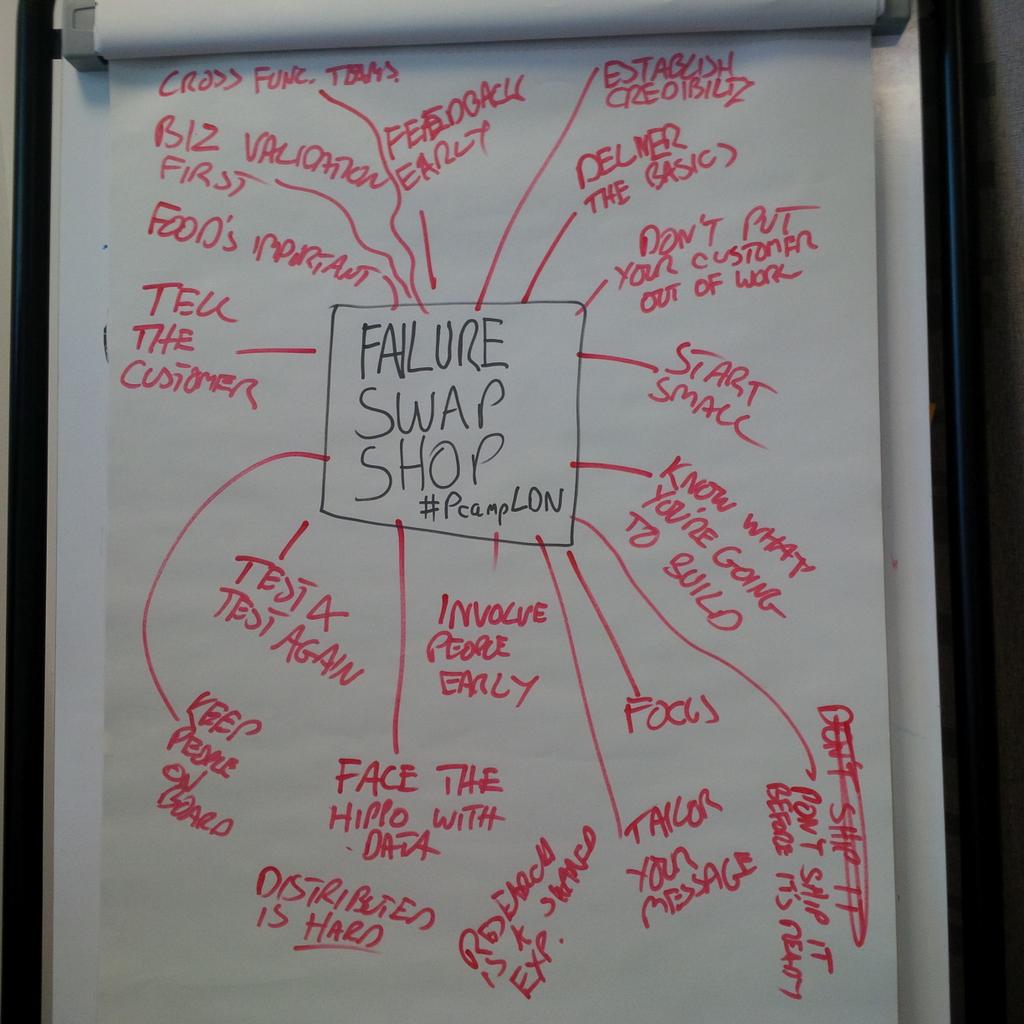 After much needed lunch break (and oh my, was the food good!), I headed into "Product Management Tools" session. The format turned out to be not too useful. There were 5 topical "boards" where attendees were invited to add the tools they use.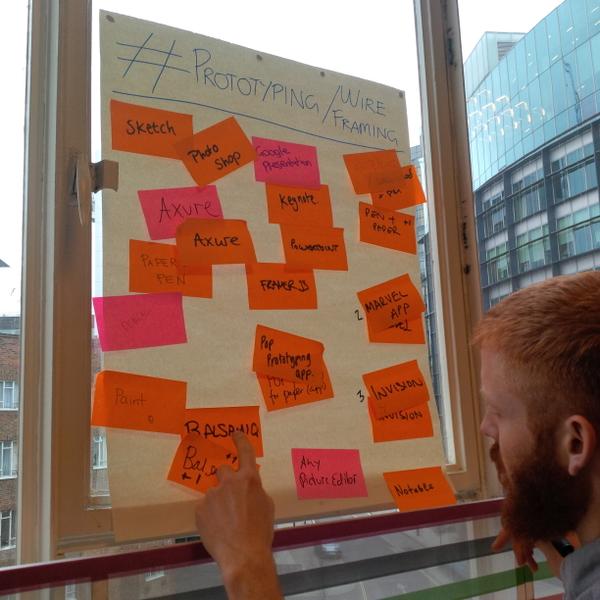 Unfortunately, it was not clear from the start that there will be some sort of a voting, so many, myself included, didn't add anything once they saw their tool of choice was already on the list.
This resulted in "leaders" for each category being selected based on a very few votes. While I was hoping to find out how and why people use certain tools, lists of tools per topic were the main outcome of this session. I did see a few titles I've never heard of before though, so will look into those more.
Next up was a topic of Impact Mapping. In another conversation earlier that day one of the attendees brought this technique up. That sounded interesting, audience wanted to know more, and so by the power of 'un-conference' a whole session was added to the schedule.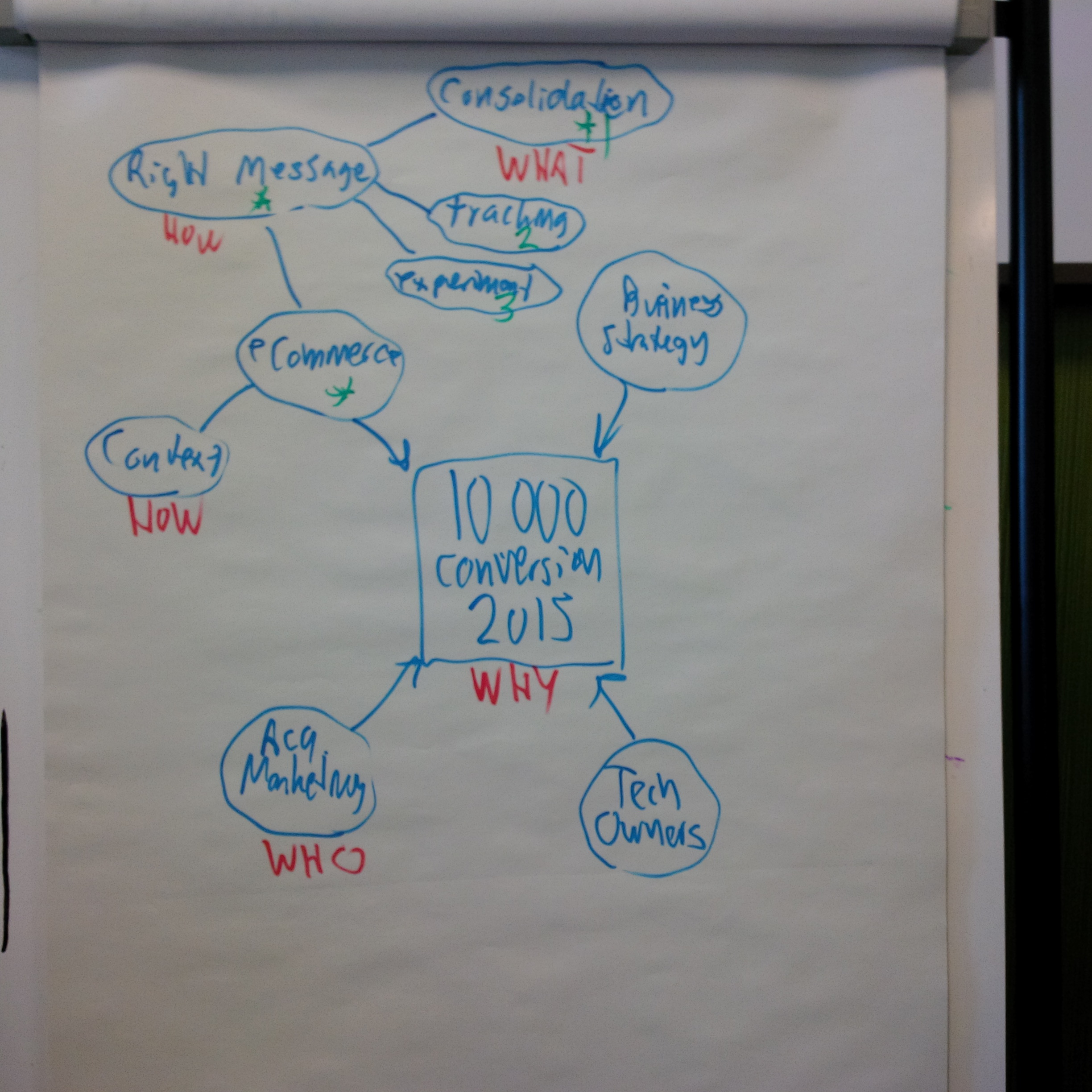 In the session Matt showed us how to apply this technique to strategic planning in 4 steps:
WHY: Find a goal everyone agrees with.
WHO: Define all the actors who can have an impact on the goal.
HOW: What is it they can actually do to help us reach the goal.
WHAT: What is it we can actually put into our product.
The next session I attended was "Managers vs Do-ers". This was a lively discussion about job titles and responsibilities, (apparently the most annoying thing for product managers was being called project managers), jumping in to "fill the gaps" and support the team, doing too much and too little.
This session was the source of my favourite quote of the day:
[Product management title] makes sense when it makes sense. But until it does, it makes no sense whatsoever.
After a short coffee break, I went to listen about "Building Product Management framework around existing product". The speakers were talking about their experiences of "inheriting" products no one actively managed before and how they went about building roadmap for them. Examples were both from B2B and B2C sphere, which made discussion even more interesting.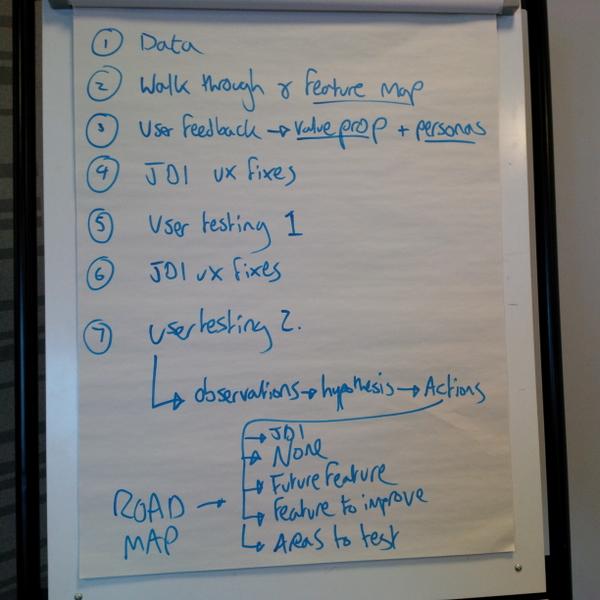 Last session for me that day was about prioritization techniques. The speaker made a very valid point — huge part of what product managers do day to day is prioritization, but during the whole Camp no one spoke about how they do it. He walked us through the prioritization technique he came up with for his own products, and the audience had a lively discussion with a healthy bit of disagreement.
At this point my brain was too tired to absorb any more information, coincidentally, this was the last session slot of the day, so Alison and I headed home.
It was indeed a wonderful day, and I am looking forward to ProductCamp London 2016.
#events
#Product Camp